Society for Medieval Archaeology Student Colloquium 2016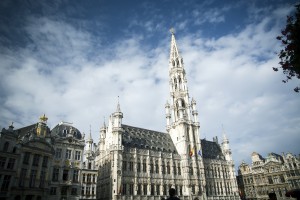 We are excited to announce that this year's Student Colloquium will be held on 3rd-5th November 2016 at the Cinquantenaire Museum,
Parc du Cinquantenaire 10, 1000 Brussels, Belgium.
The event aims to provide a platform for postgraduates and early career professionals to present and discuss their current research. The programme for the conference has now been finalised and it includes a series of exciting papers from scholars working in Belgium, Denmark, France, Ireland, Spain, Sweden and the United Kingdom. The conference sessions include:
Early Medieval Cross-sea Connections
Landscape Dynamics
Urban Formation
Travel and Seafaring
Landscape and Beliefs
The Biography of an Artefact
Landscape and Defense
Commemoration
The conference also includes archaeological tours of Brussels and Bruges and a visit to the medieval fishing village of Walraversijde. Full details of the conference programme, including paper abstracts and location maps, are available here.
Registration for the colloquium costs €27 for students and €42 for non-students, but is free for students/non-students who are members of the SMA!!! Registration for the colloquium is now open and is available here. If  you'd like to join the SMA in order to avail of free registration (and all the other benefits of SMA membership), just follow this link.
Previous Colloquia
2015 – University of Sheffield organised by Emma Green
2014 – Queen's University Belfast organised by Sarah Kerr
2013 – University of Aberdeen organised by Patrycja Kupiec