Your SMA Student Representative…
Each year the Society for Medieval Archaeology invites a student member to take on the role of Student Representative. Student Reps provide a voice for our growing student membership on SMA Council and also help organise our annual SMA Student Colloquium and career workshops. Other roles include the maintenance of our Facebook page and representing the society at conferences. If you are interested in taking on the role of Student Representative, please contact the Society's Honorary Secretary with a cover letter, CV and referee details. The deadline for receipt of applications for the position of Student Rep. is 16th March 2018.
The current SMA Student Representative Emma Hook, received a master's degree in Human Osteology and Funerary Archaeology in 2016. Currently, Emma is a PhD student in the Department of Archaeology at the University of Sheffield funded by the White Rose College of the Arts & Humanities. Her doctoral research project entitled, In Sickness and in Health: An Investigation of the Medieval Hospital of St James, Thornton Abbey, takes a multifaceted approach to the interpretation of a newly excavate medieval hospital cemetery. The project incorporates osteological analysis with archaeological and historical investigation. Emma is also involved in community outreach projects in and around Sheffield, aiming to engage the local community and particularly school children in their local heritage.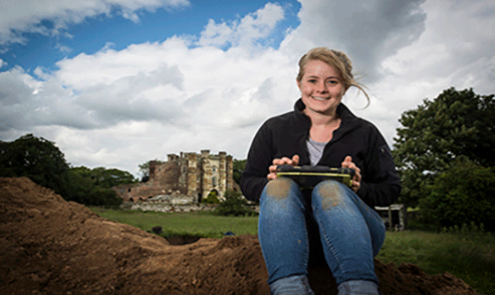 Previous SMA Student Representatives
2016: Marit Van Cant, Free University of Brussels & University of Sheffield
2015: Emma Green, University of Sheffeild
2014: Sarah Kerr, Queen's University Belfast
2013: Patrycja Kupiec, University of Aberdeen